Chandrayaan-2.: Findings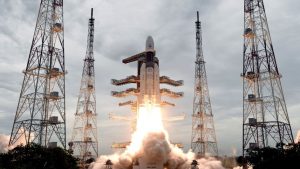 The Orbiter and other instruments of Chandrayaan-2 mission have, in two years, gathered a wealth of new information that has added to our knowledge about the Moon and its environment.
Chandrayaan-2, India's second mission to the Moon, had failed to make a soft-landing on the lunar surface.
The lander and rover malfunctioned in the final moments and crash-landed, getting destroyed in the process.
Despite the failure, the mission's orbiter and other parts have been functioning normally, gathering information. Recently, the Indian Space Research Organisation (ISRO) released the information gathered by the scientific payloads till now, some of which were still to be analysed and assessed.
Information gathered:
Presence of water molecules on moon: The mission has given the most precise information about the presence of H2O molecules on the Moon till date.
Presence of Minor elements: Chromium, manganese and Sodium have been detected for the first time through remote sensing. The finding can lay the path for understanding magmatic evolution on the Moon and deeper insights into the nebular conditions as well as planetary differentiation.
Information about solar flares: A large number of microflares outside the active region have been observed for the first time, and according to ISRO, this "has great implications on the understanding of the mechanism behind heating of the solar corona", which has been an open problem for many decades.
Exploration of the permanently shadowed regions as well as craters and boulders underneath the regolith, the loose deposit comprising the top surface extending up to 3-4m in depth.
This is expected to help scientists to zero in on future landing and drilling sites, including for human missions.