Lawn Bowls Sport: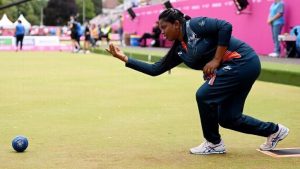 In Commonwealth Games 2022, Indian women's team scripted history by winning the country's first-ever Gold Medal in "Women's Four Lawn Bowls" Sport.
Lawn bowls is often considered a mix of "Ten-pin Bowling" and the winter sport of "Curling".
While in ten-pin bowling, the goal is to take down all the pins at the end of a lane.
In lawn bowling, the team has to get the 'Bowl' (the Ball) closest to a target, which is known as the 'Jack'.
Bowls are mostly spherical ball-like objects, typically made of wood, rubber or plastic resin, having flattened sides.
Players stand on either side of a 600mm long and 360mm wide mat and take turns rolling these bowls in an attempt to get closest to the jack.
The jack is either white or yellow in colour and is smaller and lighter than the bowl.
In the fours event, the first bowler, called the lead, is followed by the second and the third.
The last bowler is called the 'skip' and is the leader of the team.
Each team member gets two bowls per round.
Umpires use a device called "Box Measure" which uses a string to measure the distance between the jack and the bowls.
India's Participation:
Since its inaugural edition in 1930, lawn bowls has been a part of the Commonwealth Games.
So far, England, Australia and South Africa have won the most medals in the game, having won 51, 50 and 44 medals respectively.
Scotland has won 20 gold medals at the Commonwealth Games so far.
India has participated in lawn bowls events at the 2010, 2014 and 2018 Commonwealth Games.
The country's previous best was at fourth place in the 2010 women's triples lawn bowling event in Delhi and in the 2014 men's fours event at the Commonwealth Games in Glasgow.