Foucault Pendulum : New Parliament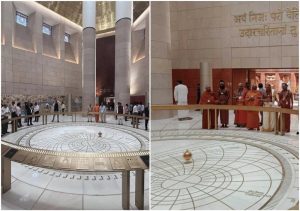 A Foucault pendulum has been installed inside the new Parliament which is designed by the National Council of Science Museums, Kolkata.
Invented by French physicist Léon Foucault in the mid-19th Century, the pendulum provided the first laboratory demonstration in history to show that the Earth spins on its axis.
The pendulum in the new Parliament is meant to symbolise the 'integration of the idea of India with that of the universe'.
The pendulum consists of a heavy bob suspended at the end of a long, strong wire from a fixed point in the ceiling.
As the pendulum swings, the imaginary surface across which the wire and the bob swipe is called the plane of the swing.
It helped us understand that the Earth is rotating or spinning. As it swings back and forth, it seems to change its direction over time.
This happens because while the pendulum swings, the Earth is spinning beneath making it look like the pendulum is changing its direction.
This effect is called the Coriolis effect. Depending on where you are on Earth, the pendulum will appear to rotate in different ways.
By observing this rotation, scientists like Foucault were able to prove that the Earth is spinning on its axis.