Frothing In Yamuna: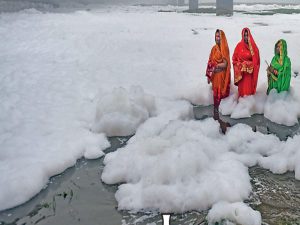 In what has become a repeat occurrence in the city, a layer of froth was seen floating over parts of the Yamuna river near Kalindi Kunj recently, with Chhath devotees standing in toxic foam-laden water to offer prayers.
The froth is a sign of a polluted river.
The release of untreated or poorly treated effluents, including sewage from those parts of the city that are not connected to the sewerage network and industrial waste, could lead to frothing.
Surfactants and phosphates from detergents in households and industrial laundry find their way into the river, as all the sewage is not treated.
The river is in a lean phase and the water flow is less. Pollutants, therefore, are not diluted. The turbulence at the barrage near Okhla generates foam from the phosphates.
The sewage treatment plants of Delhi are major contributors of the Pollutants being discharged in the river.
Pollutants discharge from different types of industry is also a major issue.
Agriculture activities along the banks of the river in Delhi contributes to river pollution.
Agricultural waste and pesticide discharge from the Haryana field also contributes to the pollution.
The low volume of water flow in the river causes the pollutants to accumulate and raise the pollution level.