G-20 Summit 2022: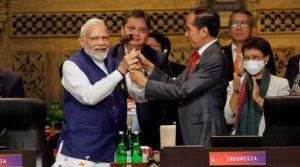 The 17th annual summit of G-20 was hosted by the Indonesian G20 presidency in Bali under the theme 'Recover Together, Recover Stronger'.
Now, India has assumed the charge of the G20 presidency and the 18th summit will be held in India in 2023.
Member countries adopted a declaration deploring Russia's aggression in Ukraine "in the strongest terms" and demanding its unconditional withdrawal.
They also recognised that while most members condemned the war in Ukraine, "there were other views and different assessments of the situation and sanctions".
The G20 economies agreed in their declaration to pace interest rate rises carefully to avoid spillovers and warned of "increased volatility" in currency moves, a sea change from last year's focus on mending the scars of the Covid-19 pandemic.
The leaders promised to take coordinated action to address food security challenges and applauded the Black Sea grains initiative.
G20 leaders agreed to pursue efforts to limit the global temperature increase to 1.5 degrees Celsius – confirming they stand by the temperature goal from the 2015 Paris Agreement on climate change.
Leaders recognised the importance of digital transformation in reaching the sustainable development goals.
They encouraged international collaboration to further develop digital skills and digital literacy to harness the positive impacts of digital transformation, especially for women, girls, and people in vulnerable situations.
Leaders also expressed their continuous commitment to promoting a healthy and sustainable recovery which builds towards achieving and sustaining universal health coverage.
They welcomed the establishment of a new financial intermediary fund for pandemic prevention, preparedness and response (the 'Pandemic Fund') hosted by the World Bank.
Leaders reaffirmed their commitment to strengthen global health governance, with the leading and coordination role of World Health Organisation (WHO) and support from other international organisations.