G-4 Meeting: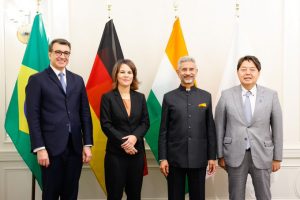 On the sidelines of the 76th session of the UN General Assembly, the G-4 countries highlight 'urgent need' for reform in U.N. Security Council (UNSC).
The G4 is a grouping of Brazil, Germany, India and Japan which are aspiring to become permanent members of the UNSC.
The G4 countries are supporting each other's bids for permanent membership of the UNSC.
The G4 nations traditionally meet on the sidelines of the annual high-level UN General Assembly session.
Key Highlights of the G-4 Meeting:
They reiterated their support for African countries being represented in a permanent and non-permanent capacity.
The Ministers agreed on the need for enhanced role and presence of developing countries and of major contributors to the United Nations to enhance the capacity of the Council to respond effectively to the complex and evolving challenges on questions of international peace and security.