Quad: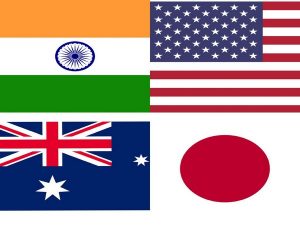 The White House announced that US President Joe Biden will be hosting the first in-person meeting of the Quad countries on September 24. Prime Minister Narendra Modi, Australian PM Scott Morrison and Japanese PM Yoshihide Suga will be present at the meeting.
Following the Indian Ocean tsunami, India, Japan, Australia, and the US created an informal alliance to collaborate on disaster relief efforts. In 2007, then PM of Japan, Shinzo Abe, formalised the alliance, as the Quadrilateral Security Dialogue or the Quad.
In 2017, faced again with the rising threat of China, the four countries revived the Quad, broadening its objectives and creating a mechanism that aimed to slowly establish a rules-based international order.
In 2020, the trilateral India-US-Japan Malabar naval exercises expanded to include Australia, marking the first official grouping of the Quad since its resurgence in 2017 and the first joint military exercises among the four countries in over a decade.
In March 2021, the Quad leaders met virtually and later released a joint statement titled 'The Spirit of the Quad,' which outlined the group's approach and objectives.