ASEAN Meeting: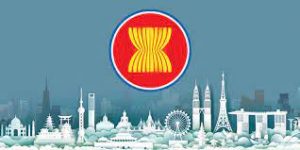 China hosted a meeting of foreign ministers from the 10 Association of Southeast Asian Nations (ASEAN) countries.
The meeting marks the 30th anniversary of China-ASEAN dialogue.
With this meeting China looks to deepen its economic ties with the region as well as push back the renewed effort at regional engagement from the US, as well as from the QUAD (Quadrilateral Framework) grouping.
QUAD earlier this year came out with a regional vaccine initiative.
Key Points:
China's Cultural Diplomacy:

Reiterated that China and ASEAN should jointly carry forward Asian values in a subtle dig at the West.
China in 2014 had put forward the idea that it was for "Asian people to uphold Asia's security".

Covid-Vaccines:

China offered ASEAN countries its vaccines as well as closer cooperation on joint vaccine development and production.

Maritime Security & Disputes:

China called for considering the lifting of China-ASEAN ties to comprehensive strategic partnership and strive for an early agreement on a code of conduct in the South China Sea.
China is banking on deep economic links to both offset maritime disputes and the push among some ASEAN countries for closer defense ties with the US amid their concerns about China's growing military footprint in the South China Sea.

Regional Comprehensive Economic Partnership:

China pushed for the early implementation of the Regional Comprehensive Economic Partnership (RCEP), which was signed by China, ASEAN countries, Japan, South Korea, Australia and New Zealand in November 2020.
India withdrew from the RCEP largely because of concerns it would open it up to Chinese goods amid an already wide trade imbalance with China, and the failure of the agreement to adequately open up to services.
Association of Southeast Asian Nations:
It is a regional grouping that promotes economic, political, and security cooperation.
It was established in August 1967 in Bangkok, Thailand with the signing of the ASEAN Declaration (Bangkok Declaration) by the founding fathers of ASEAN, namely Indonesia, Malaysia, Philippines, Singapore, and Thailand.
Its chairmanship rotates annually, based on the alphabetical order of the English names of Member States.
ASEAN countries have a total population of 650 million people and a combined Gross Domestic Product (GDP) of USD 2.8 trillion.
It is India's 4th largest trading partner with about USD 86.9 billion in trade.
Members: Brunei, Cambodia, Indonesia, Laos, Malaysia, Myanmar, the Philippines, Singapore, Thailand, and Vietnam..