Gandhi Peace Prize For 2021: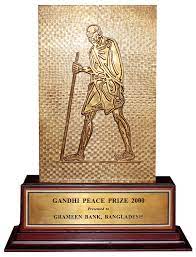 Gita Press, Gorakhpur, a 100-year-old institution that publishes Hindu religious texts and promotes Gandhian ideals of peace and social harmony, has been awarded the Gandhi Peace Prize for 2021 by the Government of India.
The prize was announced by the Ministry of Culture.
Gandhi Peace Prize Awards for Social, Economic and Political transformation through Non-violence was instituted in the year 1995, on the occasion of the 125th birth anniversary of Mahatma Gandhi, as a tribute to his ideals and contributions to humanity.
The award carries an amount of Rs 1 crore, a citation, a plaque and a traditional handicraft or handloom item.
The award is conferred by the President of India at a function in Rashtrapati Bhavan.
This award is given to individuals, associations, institutions or organizations who have worked selflessly for peace, non-violence and amelioration of human sufferings.
The award is open to all persons regardless of nationality, race, language, caste, creed or gender.
The Award may be divided between two persons / institutions who are considered by the Jury to be equally deserving of recognition in a given year.
Gita Press:
Established in 1923 by Jaya Dayal Goyandka and Hanuman Prasad Poddar, Gita Press is one of the world's largest publishers of Hindu religious texts, having published 41.7 crore books in 14 languages, including 16.21 crore copies of Shrimad Bhagvad Gita.