Global Risks Report 2023: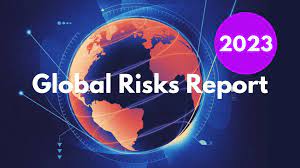 The World Economic Forum (WEF) has released the 18th Edition of Global Risks Report 2023 which seeks that the world be prepared for 'Natural disasters and extreme weather events' in the next two years.
The WEF report has been released ahead of its flagship Davos 2023 Meeting, which is titled as Cooperation in a Fragmented World.
Findings of the Report:
'Failure to Mitigate Climate Change' and 'Failure of Climate Change Adaptation' are the two most severe risks facing the world in the next decade, followed by 'natural disasters and extreme weather events' and 'Biodiversity loss and ecosystem collapse'.
Emission trajectories make it very unlikely that global ambitions to limit warming to 1.5°C will be achieved.
Failure on climate action to address climate change' has continued to figure among the top risks in the report since 2011.
Biodiversity within and between ecosystems is already declining faster than at any other point during human history.
It has been ranked as the 4th most severe risk in the long term or over the next ten years (by 2033).
Growing demands on public- and private-sector resources from the socio-economic short-term crises attributed to geopolitical tensions, will likely reduce the speed and scale of mitigation efforts over the next two years.
Over the next 10 years or by 2033, the interconnections between biodiversity loss, pollution, natural resource consumption, climate change and socioeconomic drivers will make for a dangerous mix.
In the meantime, the current global pandemic and war in Europe has been held responsible for the energy, inflation and food crises. In fact, 'cost of living' ranks as the top most serious global risk in the short term (over the next two years).Failure to mitigate climate change is also a significant global risk that the world is least prepared for.
The World Economic Forum 2023:
This meeting is set to begin in Davos on Monday, January 16, bringing together world leaders to discuss pressing issues such as the Russia-Ukraine war, global inflation, and climate change.
The theme for this year's meeting is 'Cooperation in a Fragmented World' and will conclude on January 20.
The WEF meeting is another major platform for global leaders to address the multiple crises that have deepened divisions and fragmented the geopolitical landscape.