Global Innovation Index 2023: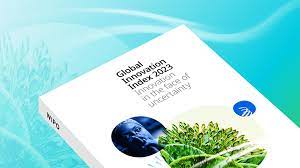 India retains 40th rank out of 132 economies in the Global Innovation Index 2023 rankings.
Global Innovation Index 2023 is published by the World Intellectual Property Organization.
It is a reliable tool for governments across the world to assess the innovation-led social and economic changes in their respective countries.
This year, the NITI Aayog, in partnership with the CII and the World Intellectual Property Organisation (WIPO), is hosting, virtually, the India Launch of the GII 2023 on 29th September 2023.
The Global Innovation Index is built on a rich dataset – the collection of 80 indicators from international public and private sources – going beyond the traditional measures of innovation since the definition of innovation has broadened.
Top 5 countries: Switzerland, Sweden ,United States United Kingdom (4th) and Singapore (5th).
It listed India as among the 21 economies that outperformed for a 13th consecutive year on innovation relative to level of development.
It states that India, Iran, Philippines, Turkiye, Vietnam and Indonesia are among the economies within the GII top 65 that climbed fastest in the ranking over the last decade.
India holds top ranking within the Central and Southern Asia region for Human capital and research (48th), Business sophistication (57th) and Knowledge and technology outputs (22nd).
Strong indicators include ICT services exports (5th), Venture capital received (6th), Graduates in science and engineering (11th) and Global corporate R&D investors (13th).