Alexander Dalrymple Award: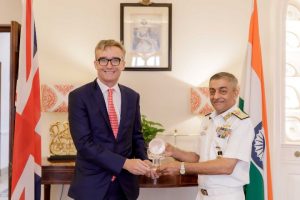 Vice Admiral Vinay Badhwar, Chief Hydrographer to the Govt. of India received the Alexander Dalrymple award from the British High Commissioner.
Vice Admiral Vinay Badhwar was conferred with the prestigious award in 2019 but the award ceremony was delayed due to the ongoing pandemic.
The Alexander Dalrymple award has been named after the first hydrographer of the Admiralty and was instituted in 2006.
Alexander Dalrymple (1737 – 1808) was a Scottish geographer and the first Hydrographer of the British Admiralty.
He was the main proponent of the theory that there existed a vast undiscovered continent in the South Pacific, Terra Australis Incognita.
He produced thousands of nautical charts, mapping a remarkable number of seas and oceans for the first time, and contributing significantly to the safety of shipping.