Stage-IV Of The Graded Response Action Plan: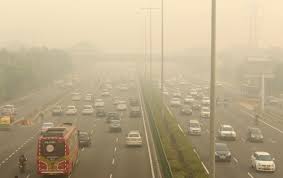 Commission for Air Quality Management in National Capital Region(NCR) and Adjoining Areas has invoked an eight-point action plan aligning with Stage-IV of the Graded Response Action Plan (GRAP), aiming to avert any additional decline in the region's air quality.
Eight Point Action Plan as per Stage-IV of GRAP:
Prohibiting the entry of truck traffic into Delhi, except for those transporting essential goods and services, along with LNG/CNG/electric trucks.
Restricting non-Delhi-registered Light Commercial Vehicles (LCVs) to enter Delhi, unless they are EVs/CNG/BS-VI diesel, except for essential service carriers.
Banning the operation of Delhi-registered diesel Medium Goods Vehicles (MGVs) and Heavy Goods Vehicles (HGVs), except for those transporting essential items.
Imposing a prohibition on construction and demolition (C&D) activities in linear public projects like highways, roads, flyovers, power transmission, and pipelines.
Advising NCR State Governments and GNCTD to transition physical classes for grades VI to IX, XI to online mode.
Directing NCR State Governments/GNCTD to consider allowing 50% capacity in public, municipal, and private offices, with the remainder working remotely.
Empowering the Central Government to decide on work-from-home protocols for employees in Central Government offices.
Encouraging State Governments to contemplate additional emergency measures such as the closure of educational institutions, non-essential commercial activities, and implementing an odd-even vehicle registration number scheme.