Governing Council Meeting Of NITI Aayog: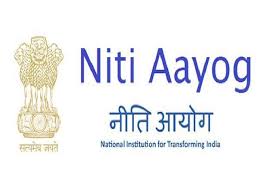 The Prime Minister chaired the seventh meeting of the Governing Council (GC) of NITI Aayog.
Key Agenda:
Crop diversification and achieving self-sufficiency in pulses, oilseeds and other agri-commodities
Implementation of National Education Policy (NEP) in school Education,
Implementation of National Education Policy in higher education, and
Urban governance.
PM's Address:
Every State played a crucial role according to its strength and contributed to India's fight against Covid-19, leading India to emerge as an example for the developing nations to look up to as a global leader.
Each state should focus on promoting its 3Ts, Trade, Tourism, Technology, through every Indian Mission around the world.
NITI Aayog's Governing Council:
It is the premier body trusted with developing a shared vision of national priorities and strategies with the active involvement of States and Union Territories.
It is a platform to discuss inter-sectoral, inter-departmental and federal issues.
It comprises:

The Prime Minister of India.
Chief Ministers of all the states and union territories with the legislature.
Lt Governors of other UTs.
Ex-Officio Members, Vice Chairman, NITI Aayog, Full-Time Members, NITI Aayog.
Special Invitees.