3rd Ministerial Meeting Over Inclusive Indo-Pacific: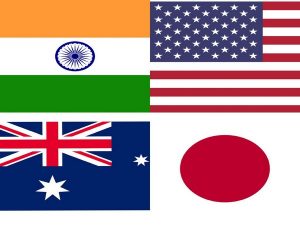 The Quadrilateral Security Dialogue (Quad) will hold its 3rd ministerial meeting on February 18, 2021.
Highlights:
The meeting will be held to exchange their views on global and regional issues.
It will focus on the practical areas of cooperation in order to maintain an open, free, and inclusive Indo-Pacific region.
The 3rd ministerial meeting of the Quad members namely, India-Australia-Japan-US will involve the participation of their foreign ministers.
They all will be presenting different agendas during the meeting.
This meeting is the continuation of the views that were exchanged in the 2nd QUAD meeting of October 6, 2020, that was held in Tokyo.
The first meeting of Quad was organized in the year 2019 in New York.
The Foreign Ministers of Australia, India, the USA, and Japan will exchange their views on the global and regional issues during the meeting.
They will also discuss the ongoing efforts of combating the Covid-19 pandemic.
The ministers will also be discussing and addressing global climate change and other issues of mutual interest.
It is expected that the initiative would put an end to the growing economic influence of China.
The cooperation with Japan and other allies will help in countering the Chinese development assistance and its domination in the region including the Indo-Pacific.