Green Tug Transition Programme: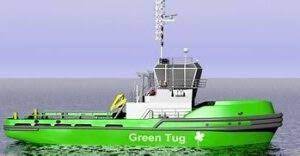 The Union Minister of Ports, Shipping & Waterways in India has announced the launch of the Green Tug Transition Programme (GTTP) with the aim of making India a global hub for green shipbuilding by 2030.
The programme will start with Green Hybrid Tugs, which will be powered by green hybrid propulsion systems, and will subsequently adopt non-fossil fuel solutions like Methanol, Ammonia, and Hydrogen.
Green shipping refers to the use of environment-friendly resources and energy to transport people and goods by ship
Green ship technology adopts procedures to decrease emissions, consume less energy, and be more efficient.
Tugs are special boats that assist other vessels into and out of port.
The primary purpose of these boats is to help move larger ships by towing, pushing, and guiding.