Himalayan Brown Bears Into Kashmir's Villages: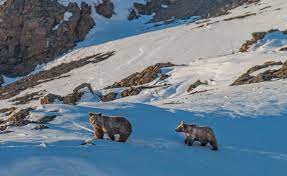 Reports show that encroachment is pushing Himalayan brown bears into Kashmir's villages.
Himalayan brown bears are found in Northwestern and central Himalaya, including India, Pakistan, Nepal, the Tibetan Autonomous Region of China and Bhutan.
Habitat:High altitude open valleys and pastures.
Conservation Status:-

IUCN Red List- Critically endangered
CITES – Appendix I
Indian Wildlife (Protection) Act of 1972 – Schedule 1
Food:Omnivorous
Threat: Human-animal conflict, rapid habitat loss, poaching for fur, claws and organs and, in some rare cases, bear baiting.