Grey Bellied Wren Babbler: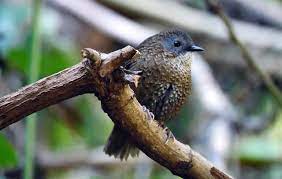 According to the recent findings of birdwatchers published by Indian BIRDS, a peer-reviewed journal of South Asian ornithology, they recorded a rare and elusive grey­bellied wren babbler.
Grey bellied wren babbler is a specie of songbird named after the Lisu, the local community.
This is mostly found in Myanmar with some birds occurring in adjoining China and Thailand.
IUCN Status: Least Concern
Habitat: Subtropical moist montane forest.
Features:

Dark edges to its back and crown feathers give it a scaly-looking quality.
Forages on ground and in undergrowth, almost always under heavy cover and rarely emerging into the open.