Grih Pravesh Programme: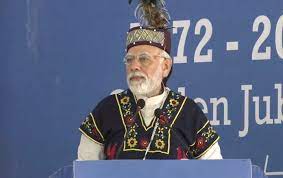 Prime Minister of India recently launched Grih Pravesh programme for over 2 lakh beneficiaries under Pradhan Mantari Awas Yojana – Urban, Rural in Tripura.
Pradhan Mantri Awas Yojana – Urban (PMAY-U): 2015-2022.
It is implemented by the Union Ministry of Housing and Urban Affairs (MoHUA).
Mission: To achieve the goal of Housing for All in Urban areas by 2022, when the Nation completes 75 years of its Independence.
Features: Under it, central assistance will be provided to Urban Local Bodies (ULBs) and other implementing agencies through States/UTs for:

In-situ Rehabilitation of existing slum dwellers using land as a resource through private participation
Credit Linked Subsidy
Affordable Housing in Partnership
Subsidy for Beneficiary-led individual house construction/enhancement.

Funding: Credit linked subsidy component will be implemented as a Central Sector Scheme while other three components will be implemented as Centrally Sponsored Scheme (CSS).
Eligibility: All statutory towns as per Census 2011 and towns notified subsequently would be eligible for coverage under the Mission.