Gallium Nitride Ecosystem Enabling Centre And Incubator : Bengaluru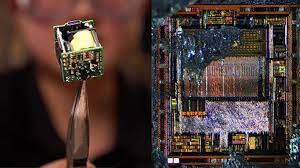 Gallium Nitride Ecosystem Enabling Centre and Incubator (GEECI) has been set up in Bengaluru.
The facility has been jointly set up by the Ministry of Electronics and Information Technology and IISc Bengaluru.
It is aimed at establishing GaN based Development Line Foundry facility, especially for RF and power applications, including strategic applications.
Gallium Nitride (GaN) is believed to be the second most important material after silicon for electronics chips.
Properties of Gallium Nitride: High heat capacity, Sensitivity to ionizing radiation is low, faster-switching speed, higher thermal conductivity and lower on-resistance.
GaN is a semiconductor commonly used in blue light-emitting diodes (LEDs).
Gallium Nitride Technology is of strategic importance with its application in the field of 5G, space and defense.
Gallium Nitride (GaN) plays a key role in enabling e-vehicles and wireless communication.