Germany's far-right group (Gruppe S):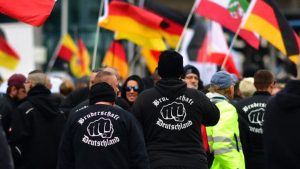 The trial of 11 individuals who are believed to be members of Germany's far-right group called "Gruppe S" (Group S) began in the city of Stuttgart. These 11 members are suspected of planning attacks on mosques, asylum centres and the German parliament.
According to the German government, the organisation was founded by Werner S, Tony E, Michael B, Frank H, Thomas N, Marcel W, Wolfgang W and Paul-Ludwig U during a meeting in September 2019. This meeting and the merger took place at the instigation of Werner S.
The aim of the founding members was to "shake the state and social order" of Germany by means of a civil war. This would involve attacks on mosques and killing or injuring a large number of Muslims present in the mosque.
The group also planned to attack political dissenters.
Support for right-wing parties is on the rise in Europe, which in recent years has seen a surge in popularity of outfits such as the Alternative for Germany (AfD) party in Germany and Vox in Spain that has brought the ideas of national identity and immigration to the forefront.
The Swedish parliament's third-largest party, the right-wing Sweden Democrats that has roots in Neo-Nazism, has created the perception among people in recent years that the influx of predominantly Muslim immigrants has led to a surge in crime.