Small Satellite Launch Vehicle: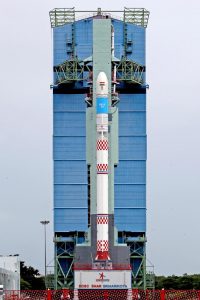 The Indian Space Research Organisation (ISRO) will launch its maiden Small Satellite Launch Vehicle, SSLV-D1/EOS-02 from Satish Dhawan Space Centre from Sriharikota at 9.18 am on August 7, 2022.
This is for the first time that the Indian space agency will demonstrate its capabilities in launching SSLV to inject smaller satellites in low earth orbit.
It will carry the Earth Observation Satellite and another small satellite developed by the student team of Space Kidz India and named as AzaadiSAT.
The girl students from Government schools across the country had participated in making this eight kg Cubesat to mark the 75th anniversary of Indian Independence. It carries 75 different payloads with earth observation applications.
SSLV developed by ISRO has solid fuel in the first three stages and a fourth stage that carries liquid propulsion-based Velocity trimming module.
It offers on demand quick launch feasibility and requires minimal launch infrastructure as compared to PSLV and GSLV launch vehicles of ISRO.
The launch marks the beginning of a journey that, in a few years' time, is expected to see the SSLV becoming the most frequently used launch vehicle by ISRO, replacing the PSLV (Polar Satellite Launch Vehicle) which has done over 50 flights till now.