EOS-03: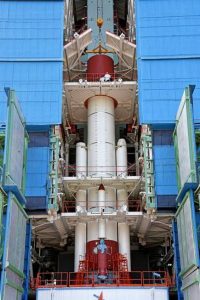 The Indian Space Research Organisation (ISRO) is scheduled to launch the geo-imaging satellite for earth observation EOS-03 in the third quarter of 2021.
EOS-03 It is an earth observation satellite.
Last year, ISRO launched EOS-01 which is nothing but another Radar Imaging Satellite (RISAT) that will work together with RISAT-2B and RISAT-2BR1.
It would enable near real-time monitoring of natural disasters like floods and cyclones.
It is capable of imaging the whole country four-five times daily.
It would also enable monitoring of water bodies, crops, vegetation condition, forest cover changes.
Radar imaging is unaffected by weather, cloud or fog, or the lack of sunlight. It can produce high-quality images in all conditions and at all times.