Har Ghar Gangajal Scheme : Bihar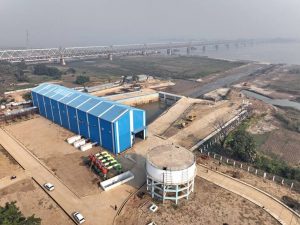 The Bihar Government is set to launch the Har Ghar Gangajal project to deliver water from Ganga river to the dry areas in the state that do not lie along the course of the river.
Under the Har Ghar Gangajal scheme, the surplus water from the Ganga river will be collected during the monsoon season to be treated, stored and piped to Rajgir, Gaya, and Bodhgaya the regions that have long relied on tankers from nearby districts for drinking water source during the dry season.
Har Ghar Gangajal scheme:
It will be launched as part of the state government's Jal, Jeevan, Hariyali scheme.
The first phase of the project will be implemented with an outlay of Rs.4,000 crore.
Under this phase, large pumps will lift Ganga water from Hathidah, close to Mokama, to supply water for to some 7.5 lakh homes in Rajgir, Bodhgaya, and Gaya.
The collected water will initially be stored in reservoirs in Rajgir and Gaya, which will then be channeled to three treatment-and-purification plants.
The treated water will be supplied to the public via pipes from Hathidah.
The project will make use of existing, renovated and new water connections to reach every beneficiary household.
The second phase of the project, which is expected to be launched in 2023, will be provide the Ganga water to Nawada.
Under this scheme, every individual beneficiary will receive 135 litres (two large buckets) of Ganga water every day to be used for drinking and domestic purposes.