World Wetlands Day 2023: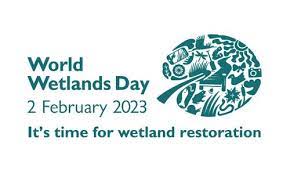 The State Governments and Union Territory administrations in India celebrated World Wetlands Day (WWD) at all 75 Ramsar.
World Wetlands Day is observed on 2nd February every year all over the world to commemorate the signing of the Ramsar Convention on Wetlands of International Importance in 1971.
India is a party to the Convention since 1982 and has so far declared 75 wetlands as Ramsar sites covering 23 states and Union Territories.
At present, the state of Tamil Nadu has a maximum number of Ramsar sites (14), followed by UP which has 10 numbers of Ramsar sites.
The 2023 theme for World Wetlands Day is Wetland Restoration.
The theme of 2023 highlights the urgent need to prioritize wetland restoration.
It is a call on an entire generation to take proactive action for wetlands, by investing financial, human and political capital to save the wetlands from disappearing and to revive and restore those that have been degraded.
India has the largest network of Ramsar Sites in Asia, making these sites a critical ecological network for the conservation of global biological diversity and supporting human well-being.