Economic Survey 2020 UPSC Notes | Latest Current Affairs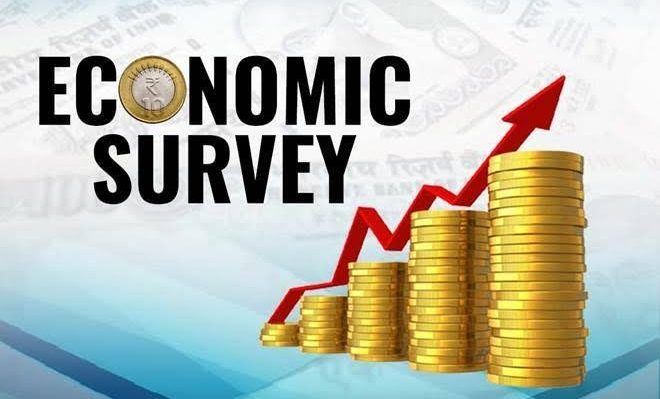 Economic Survey 2019-20 has been tabled in the parliament. Nirmala Sitharaman, Finance Minister, tabled the Economic Survey of India 2020  on Friday. It gives a clear picture of the country's economic health and a sneak peek into the Budget 2020.
The theme of the Economic Survey 2019-20:
Enable markets, promote 'pro-business' policies and strengthen 'trust' in the economy
Ethical wealth creation key to India becoming a $ 5 trillion economy by 2025
Key Highlights of the Economic Survey 2020 for UPSC:
1. GDP Growth:
The uptick in GDP Growth Expected in Second Half of 2019-20; First Advance Estimates peg Growth for Overall Fiscal at 5% GDP growth expected to grow in the range of 6.0% to 6.5% in 2020-21.
The FY21 GDP growth is seen at 6-6.5 percent.FY21 is expected to pose challenges on the fiscal front.
Agriculture to grow at 2.8%:
Agriculture and allied sectors to grow at 2.8 percent in the coming financial year. Growth in the current year estimated at 2.9%.
Industrial growth estimated at 2.5%
Industrial growth in 2019-20 is estimated at 2.5 percent, down from 2018-19's provisional estimates of 6.9 percent.
2. Focus on Wealth Creation:
India Relied on the Invisible Hand of the Market for Wealth Creation with the Support of the Hand of Trust
Survey shows clearly that sectors that were liberalized grew significantly faster than those that remain closed
3. Prices and Inflation:
Inflation witnessing moderation since 2014- Consumer Price Index (CPI) inflation increased from 3.7 percent in 2018-19 (April to December 2018) to 4.1 percent in 2019-20 (April to December 2019).
WPI inflation fell from 4.7 percent in 2018-19 (April to December 2018) to 1.5 percent during 2019-20 (April to December 2019).
During 2019-20 (April-December), food and beverages were the main contributors.
Among food and beverages, inflation in vegetables and pulses was particularly high due to low base effect and production side disruptions like untimely rain.
4.Export numbers:
Top export items: Petroleum products, precious stones, drug formulations & biologicals, gold, and other precious metals.
Largest export destinations in 2019-20 (April-November): United States of America (USA), followed by the United Arab Emirates (UAE), China and Hong Kong.
The merchandise exports to GDP ratio declined, entailing a negative impact on the BoP position.
The slowdown of world output had an impact on reducing the export to GDP ratio, particularly from 2018-19 to H1 of 2019-20.
Growth in Non-POL exports dropped significantly from 2009-14 to 2014-19.
5.Fiscal Developments
Revenue Receipts registered a higher growth during the first eight months of 2019-20, compared to the same period last year, led by considerable growth in Non-Tax revenue.
Gross GST monthly collections have crossed the mark of Rs. 1 lakh crore for a total of five times during 2019-20 (up to December 2019).
Structural reforms were undertaken in taxation during the current financial year: Change in the corporate tax rate.
Measures to ease the implementation of GST.
Fiscal deficit of states within the targets set out by the FRBM Act.
6. Modi govt's Thalinomics
An attempt to quantify what a common person pays for a Thali across India.
A shift in the dynamics of Thali prices since 2015-16.
Absolute prices of a vegetarian Thali have decreased significantly since 2015-16 across India and the four regions; though the price has increased during 2019-20.
Post-2015-16: Average household gained close to Rs. 11, 000 on average per year from the moderation in prices in the case of vegetarian Thali.
The average household that consumes two non-vegetarian Thalis gained close to Rs. 12, 000 on average per year during the same period.
From 2006-07 to 2019-20: Affordability of vegetarian Thalis improved 29 %.
Affordability of non-vegetarian Thalis improved by 18 %.
7. Ease of Doing Business in India:
A jump of 79 positions to 63 in 2019 from 142 in 2014 in World Bank's Doing Business rankings.
India still trails in parameters such as Ease of Starting Business, Registering Property, Paying Taxes and Enforcing Contracts.
8. Impact of India's trade agreements on the overall trade balance:
Survey analyses the impact of India's trade agreements on overall trade balance:-
India's exports increased by 13.4 % for manufactured products and 10.9 % for total merchandise.
Imports increased by 12.7 % for manufactured products and 8.6 per cent of total merchandise.
India gained a 0.7 % increase in trade surplus per year for manufactured products and 2.3 % per year for total merchandise.
9. China-model for jobs:
The survey suggests a strategy similar to the one used by China to grab this opportunity:
Specialization at large scale in labor-intensive sectors, especially network products.
The laser-like focus on enabling assembling operations at the mammoth scale in network products.
Export primarily to markets in rich countries.
Trade policy must be an enabler.
10. Creating Jobs:
Survey says India has unprecedented opportunity to chart a China-like, labor-intensive, export trajectory.
By integrating "Assemble in India for the world" into Make in India, India can Raise its export market share to about 3.5 % by 2025 and 6 % by 2030.
Create 4 crore well-paid jobs by 2025 and 8 crores by 2030.
2.6 crore jobs created in Rural and Urban Areas Between 2011-12 and 2017-18
In absolute terms, there was a significant jump of around 2.62 crore new jobs with 1.21 crore in rural areas and 1.39 crore in urban areas in this category
11. New firm creation in India increased dramatically since 2014
12.2 % cumulative annual growth rate of new firms in the formal sector during 2014-18, compared to 3.8 % during 2006-2014.
About 1.24 lakh new firms created in 2018, an increase of about 80 % from about 70,000 in 2014.
12. Making India $5 Trillion Economy:
Promoting Pro-Business Policy Critical for India to become a $5 trillion Economy says Economic survey
Pro-Crony Policies Erode Wealth & Destroy Value in Economy.
13.India's 'growth' in rankings:
India Ranks Third in Number of New Firms Created; 1,24,000 New Firms Created in 2018 Compared to 70,000 In 2014
As Against 3.8 % Growth Rate in Number of New Firms Created During 2006-14, Growth Rate During 2014-18 Rises to 12.2%
More Service Sector Firms Created Compared to Manufacturing, Agriculture or Infrastructure; Entrepreneurial Activity Highest in Delhi, UP, Mizoram, Kerala, A&N Islands & Haryana
Entrepreneurial Activity in Manufacturing Sector Highest in Gujarat, Meghalaya, Puducherry, Punjab and Rajasthan
Birth of New Firms Heterogeneous Across Indian Districts & Sectors: Economic Survey.
14.Housing sector boost:
47.33 Lakh Houses Completed Per Year in 2018-19 Under Pradhan Mantri Awaas Yojana- Gramin over 11.95 Lakh Houses in 2014-15
Over 10 Crore Toilets Built in Rural Areas Under Swachh Bharat Mission- Gramin (SBM-G) Since 2014
10 Year Rural Sanitation Strategy (2019-2029) Launched to Focus on Sustaining Sanitation Behaviour Change.
15. India becomes the 2nd Largest Emerging Green Bond Market:
Economic Survey observed that India has the Second largest Emerging Green Bond Market after China.
The SBI entered the market with a US$650 million Certified Climate Bond. India also joined the International Platform on Sustainable Finance (IPSF) in 2019 to scale up environmentally sustainable investments.
16.Forex reserve estimated at $ 461.2 billion in 2019-20:
 Forex reserve estimated at $ 461.2 billion in 2019-20
India's Balance of Payments Position Improves, as Current Account Deficit Declines Further
Foreign Exchange Reserves Continue to Be Comfortable
FDI Inflows and Overseas Remittances on an Upward Graph
17. Deduction in Capex can hurt India's growth
Deduction in Capex can hurt India's growth and non-committed revenue spend must be trimmed.
18. FY20 tax collections expected to be lower than estimates
Centre, state to get revenue position due to GST buoyancy. The FY20 tax collection is expected to be lower than the estimates
19. Private investment may get crowded:
Banks may remain risk-averse unless IBC process speeds up.
Private investment may get crowded on higher govt infrastructure spend.
Infrastructure Investment of Rs.102 Lakh Crore in FY 2020-2025
The Survey said that to achieve GDP of USD 5 trillion by 2024 – 2025, India needs to spend about USD 1.4 trillion (Rs.100 lakh crore) over these years on infrastructure so that lack of infrastructure does not become a constraint to the growth of Indian economy.
NIP is expected to enable well-prepared infrastructure projects that will create jobs, improve ease of living and provide equitable access for infrastructure for all thereby making growth more inclusive.
20. Percent Growth Registered in the Livestock Sector During the Last Five Years
The Survey said that Livestock income has become an important secondary source of income for millions of rural families and has assumed an important role in achieving the goal of doubling farmers' income, says Economic Survey.
The livestock sector has been growing at a Compound Annual Growth Rate (CAGR) of 7.9 percent during the last five years.
21. Ayushman Bharat and Health
Ayushman Bharat, the world's biggest health care scheme to improve access to health and delivery of health services at a massive scale, has set up 28,005 Health & Wellness Centres as of 14th January 2020.
"To promote preventive healthcare, one and a half lakh Ayushman Bharat- Health and Wellness Centres are proposed to be set up by 2022," the Survey said.
As per the latest National Health Accounts 2016-17, the out of pocket expenditure (OoPE) on health as a percentage of total health expenditure declined from 64.2 percent in 2013-14 to 58.7 percent in 2016-17, observed the Economic Survey.
22.Schooling:
The Survey pointed out high drop out rates at various levels of schooling and lack of affordability in higher education as areas of concern.
The Survey emphasized that Samagra Shiksha 2018-19, was launched to envisage school education as a continuation from pre-school to senior secondary level to provide access to education to all.
Quick revision( Economic Survey 2019-20):
GDP growth pegged at 6-6.5 percent in the fiscal year starting April 1, up from 5 percent in current fiscal
Fiscal deficit target for current fiscal may need to be relaxed to revive growth
The uptick in growth projected in the second half of the current fiscal based on 10 factors including higher FDI flows, the build-up of demand pressure, positive GST revenue growth
Survey asks government to deliver expeditiously on reforms to revive growth
Ethical wealth creation key to India becoming a USD 5 trillion economies by 2025
Share of formal employment increased from 17.9 percent in 2011 -12 to 22.8 percent in 2017-18 reflecting formalization in the economy
To achieve GDP of USD 5 trillion by 2024-25, India needs to spend about USD 1.4 trillion over these years on infrastructure
2.62 crore new jobs created in rural, urban areas between 2011-12 and 2017-18 among regular wage/salaried employees
8 percent increase in regular employment of women in 2017-18 over 2011-12
Excessive government intervention in markets, especially when the market can do the job of enhancing citizens welfare perfectly well, stifles economic freedom
Debt waivers disrupt the credit culture, reduces formal credit to the same farmers
Suggests the government to systematically examine areas where it needlessly intervenes and undermines markets
Calls for improving governance in public sector banks, more disclosures to build trust
Calls for measures to make it easier to start a new business, register property, pay taxes, enforce contracts
Easing of crude prices lowers current account deficit; imports contract more sharply than exports in the first half of the current fiscal
Declining inflation from 3.2 percent in April 2019 to 2.6 percent in December 2019, reflecting weakening demand pressure in the economy
GST collections grew by 4.1 percent for the center during April-November 2019.
According to the Survey, foreign tourist arrivals to India on e-visas, which are available for 169 countries, have increased from 4.45 lakh in 2015 to 23.69 lakh in 2018 and stood at 21.75 lakh in January-October 2019, recording nearly 21 percent year-on-year growth in the tourism sector.