First Semiconductor Plant Of India : Gujrat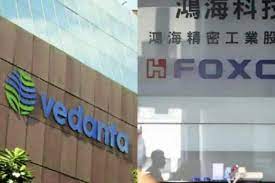 The Vedanta group and the Foxconn of Taiwan have come together to build the first semiconductor manufacturing unit in Dholera of Gujarat. The companies signed a Memorandum of Understanding with the Gujarat Government
The semiconductor plant will be built in the Dholera Special Investment Region in Ahmedabad.
It is a greenfield industrial city.
The Dholera Special Investment Region Development Authority handles the land and the projects.
Semiconductor plant manufactures ICs and semiconductor materials.
The semiconductor materials are made usable for electronic applications through a process called Doping.
For instance, to create an N-type semiconductor material, one need to add Phosphorous to Germanium.
Such doping processes are done in semiconductor plants.