Heatwaves In India : Report By World Bank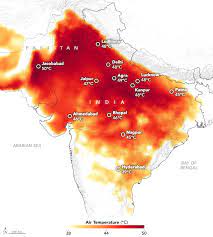 A new report by the World Bank suggests India could soon become one of the first places in the world to experience heatwaves that break the human survivability limit.
India has witnessed a concurrent increase in meteorological droughts and heat waves over the last 60 years.
A Heat Wave is a period of abnormally high temperatures, more than the normal maximum temperature that usually occurs during the summer season.
The Human Survivability Limit refers to the rule of thumb, which states humans can survive three minutes without air, three days without water, and three weeks without food.
In April 2022, India suffered an early spring heat wave that saw temperatures in New Delhi, topping 46 degrees Celsius.
The month of March, which witnessed extraordinary spikes in temperatures, was the hottest ever recorded.