Heeralal Samariya : Chief Of The Central Information Commission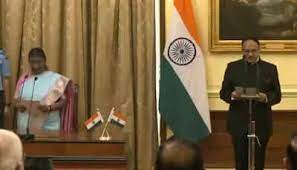 The Information Commissioner, Heeralal Samariya, was sworn in as the chief of the Central Information Commission (CIC) by the President Of India.
Central Information Commission has been constituted under the Right to Information Act, 2005.
The jurisdiction of the Commission extends over all Central Public Authorities.
Objectives:

To exercise the powers conferred on them under the RTI Act, 2005.
To receive and inquire into complaints from any citizen (Section 18 of the RTI Act, 2005).
To receive and decide upon the second appeal from any citizen (Section 19 of the RTI Act, 2005).
To perform the duty of "Monitoring and Reporting "(Section 25 of the RTI Act, 2005).

It consists of a Chief Information Commissioner and not more than ten Information Commissioners.
They are appointed by the President of India on the recommendation of a committee consisting of the Prime Minister as Chairperson, the Leader of Opposition in the Lok Sabha, and a Union Cabinet Minister nominated by the Prime Minister.