Moderna's Vaccine: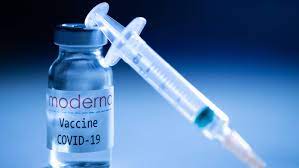 The Drugs Controller General of India (DCGI) has granted permission to Mumbai-based pharma major Cipla to import Moderna's COVID-19 vaccine, making it the fourth vaccine in the country to be given the emergency use authorisation (EUA).
India has made available three COVID vaccines — Covaxin, Covishield and Sputnik.
The vaccine, mRNA-1273, manufactured by Moderna TX, Inc., is a two-dose vaccine with the shots to be given 28 days apart.
Messenger RNA vaccines, also called mRNA vaccines, are a new vaccine technology platform.
The mRNA vaccines teach human cells how to make a protein, or even just a piece of a protein of the virus, triggering an immune response inside human bodies.
The benefit of mRNA vaccines, like all vaccines, is that those vaccinated gain protection without ever having to risk the serious consequences of getting sick with Covid-19.
Vaccines and medicines, and even diagnostic tests and medical devices, require the approval of a regulatory authority before they can be administered.
In India, the regulatory authority is the Central Drugs Standard Control Organisation (CDSCO).
For vaccines and medicines, approval is granted after an assessment of their safety and effectiveness, based on data from trials.