Himalayan Chandra Telescope: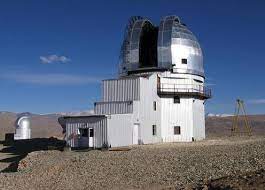 The Himalayan Chandra Telescope in Hanle recently joined hands with 10 other global observatories to observe the brightening of a blazar, one of the most powerful objects in the universe.
Blazer is a type of galaxy that is powered by a humongous black hole and is among one of the brightest and most powerful objects in the universe.
They are known for emitting highly energetic particles and radiation, including gamma rays, X-rays, and radio waves.
Himalayan Chandra Telescope is a 2 meter optical-infrared telescope named after Nobel laureate Subramaniam Chandrasekhar.
It is at the Indian Astronomical Observatory (IAO) in Hanle near Leh in Ladakh.
It is currently the tenth highest optical telescope in the world, situated at an elevation of 4,500 meters.
The telescope remotely operated using a dedicated satellite communication link from the Centre for Research & Education in Science & Technology (CREST), Indian Institute of Astrophysics (IIA), Bangalore.
Imaging instruments include a Faint Object Spectrograph, a near infra-red and an optical CCD camera.