Keeladi Findings : Archaeological Survey Of India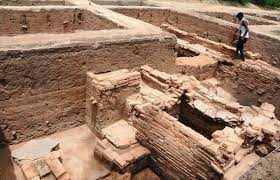 The Archaeological Survey of India (ASI) has submitted a detailed report on the findings during the first two phases of the digging at the Sangam-era site and their significance.
Also, the Keeladi Site Museum is coming up in Sivaganga that would house significant ones of the over 18,000 artefacts unearthed so far.
Keeladi is a tiny hamlet in the Sivaganga district in south Tamil Nadu. It is about 12 km south-east to the temple city of Madurai and is located along the Vaigai river.
The excavations here from 2015 prove that an urban civilization existed in Tamil Nadu in the Sangam age on the banks of the Vaigai river.
Key Findings:
In the eight rounds of excavations, including the first three by the ASI, over 18,000 artefacts have been unearthed from the site and the unique artefacts will be on display at the museum to be opened soon.
Unearthing of heaps of pottery suggest the existence of a pottery making industry, mostly made of locally available raw materials.
Over 120 potsherds containing Tamil Brahmi inscriptions have been found.
Over a thousand inscribed potsherds, found at Keeladi and other sites clearly suggest the long survival of the script.
Spindle whorls, copper needles, terracotta seal, hanging stones of the yarn, terracotta spheres and earthen vessels to hold liquid suggest various stages of a weaving industry. There also existed a dyeing industry and a glass bead industry.
Gold ornaments, copper articles, semi-precious stones, shell bangles, ivory bangles and ivory combs reflect the artistic, culturally rich and prosperous lifestyle of the Keeladi people.