Bird Flu: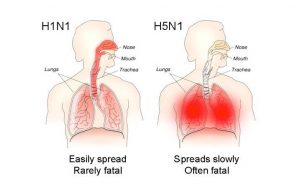 Fresh cases of bird flu have been confirmed in the Kuttanad region of Kerala. Response teams have been formed for culling birds in affected areas.
Samples have tested positive for the H5N1 influenza virus.
Bird flu also called avian influenza.
It is a disease caused by avian influenza Type A viruses found naturally in wild birds worldwide.
Symptoms have ranged from mild to severe influenza-like illness.
Avian Influenza type A viruses are classified based on two proteins on their surfaces – Hemagglutinin(HA) and Neuraminidase(NA).
There are about 18 HA subtypes and 11 NA subtypes.
Several combinations of these two proteins are possible e.g., H5N1, H7N2, H9N6, H17N10, etc.
There have been reports of avian and swine influenza infections in humans.
The infection is deadly as it has a high mortality rate of about 60%.
The most common route of virus transmission is direct contact. They can also be affected if they come in contact with contaminated surfaces or air near the infected poultry.
There are no known cases of H5N8 in human beings. Risk to general public is very low.
There is also no evidence that consumption of poultry meat or eggs could transmit the virus to humans. But necessary precautions are required while handling sick/dead birds and contaminated material during control and containment operations. It is considered safe to eat properly cooked poultry products.
Culling is usually undertaken to control the infection when it is detected in animals.
Besides culling, safe disposal of all such culled animals and animal products is also important.
The authorities also need to strictly enforce decontamination of infected premises and undertake quarantine of contaminated vehicles and personnel.