Hurun Global Rich List 2021: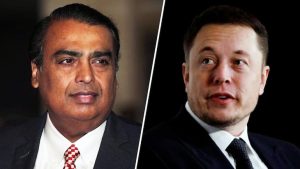 10th edition of Hurun Global Rich List 2021 was released recently.
Key findings:
The world added 607 new billionaires or more than three billionaires in two days.
India added 55 new billionaires, or more than one billionaire every week, in 2020.
Tesla's Elon Musk added $151 billion to become the richest man in the world for the first time with a net worth of $197 billion, followed by Amazon's Jeff Bezos ($189 billion), the chairman and CEO of LVMH Moet Hennessy.
Reliance Industries Chairman Mukesh Ambani, who emerged as the richest man in India with a net worth of $83 billion, came in at number eight.
India retained the third spot in the number of billionaires from a country with a total of 177 billionaires living in the country.
In the list of Indian billionaires, Mr. Ambani was followed by Adani Group's Gautam Adani and family with his wealth almost doubling to $32 billion.
Country-wise, China leads with the most number of billionaires at 1058, followed by the US (696), India (177), Germany, the United Kingdom, and Switzerland at over 100 each.
By continent, Asia accounts for 51 percent of the billionaires.
Among cities, Mumbai hosts the maximum number of billionaires (60), followed by New Delhi (40) and Bengaluru (22).