Key Features Of J&K Land Grant Rules 2022: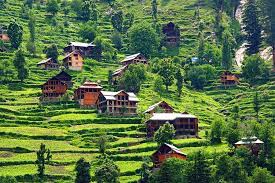 The Jammu and Kashmir administration has notified "J&K Land Grant Rules 2022" which has ended the owners right to hold on to properties on lease in the Union Territory (U.T.) and plans to outsource these properties afresh online.
The new laws replaced "J&K Land Grants Rules 1960", which had liberal lease policy such as 99-year lease period and extendable.
Most hotels at famous tourist places in the Valley and prime commercial structures in twin capitals of Jammu and Srinagar are on lease land.
The new laws state that all leases, except the subsisting or expired residential leases, including lease granted under the J&K Land Grants Rules 1960, notified area (All Development Authorities set in tourism sector) Land Grants Rules, 2007 and leases expired or determined prior to the coming into force of these rules or issued under these rules shall not be renewed and shall stand determined.
The Lieutenant Governor administration plans to hold a fresh online auction to outsource these lease properties.
All the outgoing lessees would immediately hand over the possession of the land taken on lease to the government, failing which the outgoing lessee shall be evicted.