India Inequality Report 2022: Digital Divide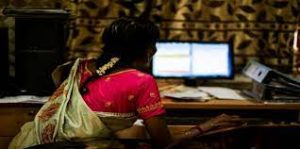 According to 'India Inequality Report 2022: Digital Divide' released by the NGO Oxfam India – growing inequalities based on caste, religion, gender, class, and geographic location are being worryingly replicated in the digital space in India. Digital divide is a term that refers to the gap between demographics and regions that have access to modern information and communications technology (ICT), and those that do not or have restricted access.
Key Highlights of the report:
Women constitute only one-third of internet users in India
61% of men-owned mobile phones compared to just 31 % of women in 2021
Only 31 per cent of the rural population uses the Internet compared to 67 per cent of their urban counterparts
Maharashtra has the highest internet penetration, while Bihar has the lowest.
Sikhs have the highest likelihood of having a computer followed by Christians, Hindus and lastly Muslims.
The tendency to use formal financial services is lowest for ST households, followed by SC households and OBC households.
The chances of having a computer are higher with higher levels of education as well as income.
The likelihood of a digital payment by the richest 60 per cent is four times more than the poorest 40 per cent in India.