Death Of Labourers Hired For Manual Scavenging: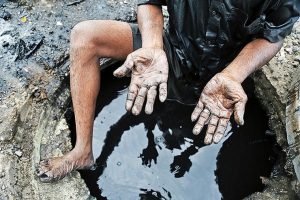 Three labourers in Mumbai, allegedly hired for manual scavenging, died after inhaling toxic fumes in a septic tank.
Even though manual scavenging is banned in India, the practice is still prevalent in many parts of the country.
Manual scavenging is the practice of removing human excreta by hand from sewers or septic tanks.
India banned the practice under the Prohibition of Employment as Manual Scavengers and their Rehabilitation Act, 2013 (PEMSR).
The Act recognizes manual scavenging as a "dehumanizing practice," and cites a need to "correct the historical injustice and indignity suffered by the manual scavengers."
Article 21 of the Constitution guarantees 'Right to Life' and that also with dignity.
This right is available to both citizens and non-citizens.
The ban Manual Scavenging should, therefore, should be implemented in letter and spirit.