India-Middle East-Europe Mega Economic Corridor : Launch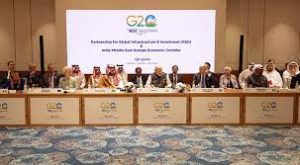 The Prime Minister of India announced the launch of the India-Middle East-Europe mega economic corridor.
India-Middle East-Europe Economic Corridor project includes India, the UAE, Saudi Arabia, the European Union, France, Italy, Germany and the US.
The project will aim to enable greater trade among the involved countries, including energy products.
The IMEC comprises of an Eastern Corridor connecting India to the Gulf region and a Northern Corridor connecting the Gulf region to Europe.
It will include a railway and ship-rail transit network and road transport routes.
The corridor will include a rail link as well as an electricity cable, a hydrogen pipeline and a high-speed data cable.
In the coming times, it will be a major medium of economic integration between India, West Asia and Europe.
The rail and shipping corridor is part of the Partnership for Global Infrastructure Investment (PGII)
It would increase prosperity among the countries involved through an increased flow of energy and digital communications.
The project would help deal with the lack of infrastructure needed for growth in lower- and middle-income nations.