India Ranks Third In Renewable Energy Installations In 2021: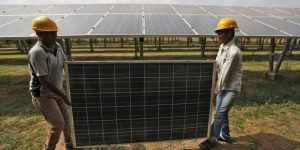 India ranked third in renewable energy installations in 2021, after China and Russia, according to a Renewable 2022 Global status report published by REN21 (Renewable Energy Policy Network for the 21st Century).
India installed 4 gigawatts (GW) of renewable energy projects in 2021
India ranked fourth in total solar installations (60.4 GW) for the year – overtaking Germany (59.2 GW) for the first time.
Overall countries added around 3,146 GW of total installed renewable power capacity in 2021 – a rise of 11% from the previous year.
Despite the rise in installed capacity, the share of renewables in global energy use stagnated in 2021.
The renewable energy capacities achieved so far come nowhere close to the targets required to keep the world on track to reach net-zero emissions by 2050.
Despite the impacts of the COVID-19 pandemic, renewables saw a year of record growth in both investment and installation.
The invasion of Ukraine added to the energy crisis. Governments, however, responded by increasing fossil fuel production and subsidies.
This has caused a record surge in carbon dioxide emissions (up by 6%, adding more than two billion tonnes).
India has announced a target of 500 GW of renewable energy by 2030through sources such as solar photovoltaic (PV) energy, wind and hydropower.
Currently, projects worth almost $197 billion are underway in India.
India extended its national solar production programme, which provides incentives to domestic and international companies for setting up battery manufacturing plants.
In 2021, after India increased its cap on solar PV installations under its net metering scheme, the country's rooftop PV market hit a record high.