India-US Bilateral Meet: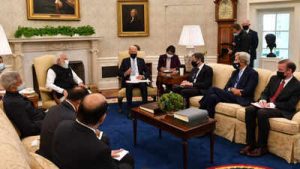 The Indian Prime Minister met the newly elected US President for their first bilateral meeting in the US.
Both leaders discussed a wide range of priority issues, including combating Covid-19, climate change, and economic cooperation.
Earlier, the US Secretary of State, in his visit to India, mentioned that actions by India and the US will shape the 21st century.
Highlights of the Meet:
Discussions to further cement the Indo-US strategic partnership and discussed global issues of common interest, including threats to democracy, Afghanistan and the Indo-Pacific.
Discussed Pakistan's role in Afghanistan as one of the key challenges, and there was a sense that it needs more "careful monitoring".
Both sides denounced any use of terrorist proxies and emphasised the importance of denying the logistical, financial or military support to terrorist groups, which could be used to plan, or launch terror attacks.
They called on the Taliban to adhere to these and all of its commitments under Resolution 2593.
The US Government, companies based in the USA and the Indian diaspora were very helpful when India was fighting a tough wave of Covid-19 infections.
India will resume export of surplus Covid-19 vaccines in the fourth quarter of 2021 under the Vaccine Maitri programme and to meet its commitment to the COVAX global pool.
India raised several issues involving the Indian community in the US, including access for Indian professionals there and H-1B visas.