India-US Pact On Semiconductor: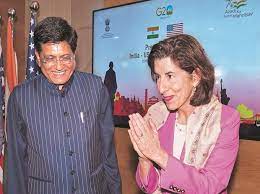 India and the US have signed Memorandum of Understanding (MoU) on establishing the Semiconductor Supply chain during India – USA 5th Commercial Dialogue 2023, which can help India realize its long-nurtured dream of becoming a hub for electronic goods.
The MoU seeks to establish a collaborative mechanism between the two governments on semiconductor supply chain resiliency and diversification in view of US's CHIPS and Science Act and India's Semiconductor Mission.
The US and China are giants in chip manufacturing. So, this pact with the US to strengthen cooperation in the semiconductor sector to facilitate commercial opportunities and development of innovation ecosystems is likely to help India immensely.
Electronics Supply Chain can help India get aligned into a more central role in the global electronics supply chain.
The crunch in semiconductors supply began during the Covid-19 and went on to intensify in 2021.
A Goldman Sachs report suggested that at least 169 industries had been impacted by the global chip supply shortage in 2021.
From a domestic perspective, this could also prompt a potential realignment of India's current policy approach on chip manufacturing.