India-US: PASSEX: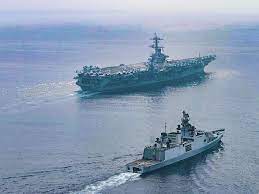 Indian naval ships will join maritime patrol and other aircraft to participate in a Passage Exercise or PASSEX with the US Navy's Ronald Reagan Carrier Strike Group during its transit through Indian Ocean Region (IOR).
A passage exercise is normally undertaken whenever an opportunity arises, in contrast to pre-planned maritime drills.
Earlier, the Indian Navy had also conducted similar PASSEXs with the Japanese Navy and the French Navy.
Indian Naval Ships Kochi and Teg along with P8I (maritime patrol aircraft) and (Indian ship based) MiG 29K aircraft are participating in the PASSEX.
The Indian Naval warships along with aircraft from Indian Navy and Indian Air Force (IAF) will be engaged in joint multi-domain operations with the US Carrier Strike Group.
The exercise is in the IAF's Southern Air Command's area of responsibility and the IAF forces will include Jaguars, Sukhoi-30 MKI fighters, Air-to-Air Refueller aircraft, Airborne Warning And Control System (AWACS) and Airborne Early Warning and Control (AEW&C).
High tempo operations during the exercise include advanced air defence exercises, cross deck helicopter operations and anti-submarine exercises.