Indian Air Force Received Israel's Anti Guided Missiles: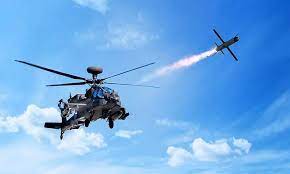 The Indian Air Force has received Israel's Spike Non-Line of Sight (NLOS) anti-tank guided missiles.
The Spike NLOS will be integrated with the Russian-origin fleet of Mi-17V5 helicopters.
Spike Non-Line of Sight (NLOS) developed by: Rafael Advanced Defense Systems Ltd, Israel.
Spike NLOS is a multi-purpose, electro-optical/infrared missile system.
It is a fire-and-forget anti-tank and anti-personnel missile.
Range: up to 32 kilometers
It can be integrated with the ground, air, or maritime platforms.
It has the capability to strike distant or geographically concealed targets without line-of-sight.
In missile guidance, line of sight (LOS) is the line directly between the launcher/tacker and the target.
The weapon's seeker and wireless datalink provide operators with real-time video imagery and man-in-the-loop control throughout the missile's flight.
This provides operators with the opportunity to alter or abort the mission while en route to the target.
The made-in-Israel Spike missile is capable of destroying enemy targets hidden behind mountains from long ranges.