Summer Solstice: 21st June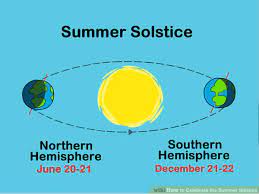 21st June is the day of the Summer Solstice in the northern hemisphere.
The day is observed as the International Day of Yoga.
Solstice is a Latin word that means 'stalled sun'.
It is a natural phenomenon that occurs twice every year, once in the summer and again during winter, in each hemisphere of the earth – Summer and Winter Solstice.
It is the longest day and shortest night of the year in the Northern Hemisphere.
During this, countries in the Northern Hemisphere are nearest to the Sun and the Sun shines overhead on the Tropic of Cancer (23.5° North).
At latitudes of 23.5° are the Tropics of Cancer and Capricorn, north and south of the Equator.
At 66.5° are the Arctic and Antarctic Circles, to the north and south.
Latitudes are a measure of a location's distance from the Equator.
During the solstice, the Earth's axis — around which the planet spins, completing one turn each day — is tilted in a way that the North Pole is tipped towards the sun and the South Pole is away from it.
Typically, this imaginary axis passes right through the middle of the Earth from top to bottom and is always tilted at 23.5 degrees with respect to the sun.