Project Devika : North India's First River Rejuvenation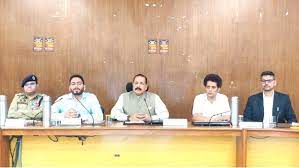 It was announced that North India's first River Rejuvenation Project Devika is nearing its completion.
It was Built at a cost of over Rs 190 crore on the lines of 'Namami Ganga', the Project was launched by Prime Minister Shri Narendra Modi
Project Devika launched in 2019.
It was launched under the National River Conservation Plan (NRCP).
Ministry: Ministry of Jal Shakti.
Project Devika aims to rejuvenate the Devika River.
Under the project, bathing "ghats" (places) on the banks of the Devika River will be developed.
Further, the encroachments will be removed, and natural water bodies will be restored.
The catchment areas will also be developed along with cremation grounds.
The Liquid Waste Management Project involves creating a network of pipes and manholes connecting households under the Project. (Cleaning of River Ganga)
A Solid Waste Management Project is additionally planned to further enhance the river's restoration.
The project also includes the construction of three sewage treatment plants, the development of two cremation ghats, protection fencing and landscaping, small hydropower plants, and three solar power plants.
Devika River originates from the hilly Suddha Mahadev temple in the Udhampur district of Jammu and Kashmir and flows down towards western Punjab (now in Pakistan) where it merges with the Ravi River.
The river holds religious significance as it is revered by Hindus, as the sister of the river Ganga.
It is believed that Devika River is a manifestation of the Goddess Parwati.