Indian Beamline Project: Third Phase: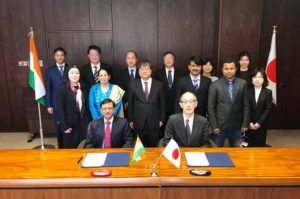 The third phase of the Indian beamline project, a facility for materials research set up under India-Japan Scientific and Technological Cooperation, was initiated on March 23, 2021, with a special focus on industrial application research.
The phase would increase the number of young researchers from India to be trained in advanced X-ray techniques of material research.
Besides, steps will be taken to allocate more beamtime so that more researchers can get access to it. At present, only 50 % of Indian researchers who apply receive beamtime.
The Indian beamline has been constructed and maintained by Saha Institute of Nuclear Physics (SINP), Kolkata and Jawaharlal Nehru Centre for Advanced Scientific Research (JNCASR), Bangalore; in the Japanese synchrotron light source Photon Factory (PF) of High Energy Accelerator Research Organization (KEK), with support from Nano Mission, Department of Science and Technology (DST).
This India-Japan Scientific and Technological Cooperation project was initiated between the DST and the KEK on 24 July 2007.
In the first phase (2009-2015) of this project, an X-ray beamline (BL18B) was constructed by SINP in PF. In the second phase (2016-2021), JNCASR and SINP jointly developed the beamline further to cater to the need of various users from India.