Indian Navy Day 2022: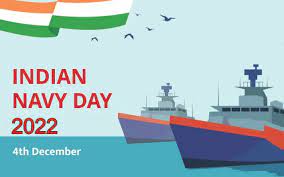 India observes Navy Day on December 4 every year.
It aims to acknowledge the role of the Indian Navy and commemorate its achievements in 'Operation Trident' during the 1971 Indo-Pak War.
This year, for the first time, Navy Day Celebrations are being conducted outside the National Capital.
This year, as India celebrates 75 years of her independence, the Indian Navy is all set to demonstrate India's combat prowess and capability through an 'Operational Demonstration' at Visakhapatnam.
The Op Demo will showcase the capability and versatility of Indian Naval ships, submarines, aircraft, and Special Forces.
The Navy Day celebrations are aimed at fostering greater outreach, renewing maritime consciousness amongst our citizens and highlights the Navy's contributions towards national security.