India's First 3D-Printed Post Office : Bengaluru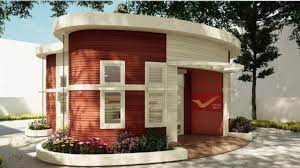 It has been inaugurated in Bengaluru's Cambridge Layout. The post office was constructed in just 43 days, ahead of schedule, with technological support from IIT Madras and guidance from Professor Manu Santhanam.
3D printing, also known as additive manufacturing, involves creating three-dimensional objects layer by layer using a computer-created design.
This process is used in various industries, and its popularity has grown due to advancements that have reduced errors and increased efficiency.
The technology has been used in sectors like automotive, aerospace, and healthcare, enabling the creation of objects ranging from simple items to complex moving parts.