Barents Sea Warming: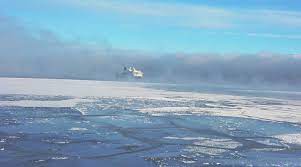 According to a study, it is stated that parts of the Arctic region near Norway are warming at as much as seven times the rate of warming in the rest of the world.
The region around the northern Barents Sea has been warming two to two-and-a-half times the average warming of the Arctic region and five to seven times the warming in the rest of the world.
Such intense warming has never been observed in the Arctic region before.
This is leading to the phenomenon of Atlantification.
The Barents Sea borders the Norwegian and Greenland Sea in the west, the Arctic Sea in the north and the Kara Sea in the east.
The Barents Sea is divided between Russia and Norway as defined by the United Nations Convention on the Law of the Sea (UNCLOS).
Scientists have discovered 'hotspots' where some parts of the Barents Sea have started to closely resemble the Atlantic.
This phenomenon has been termed Atlantification.
The north-flowing ocean currents transport the warm waters of the Atlantic into the Arctic Ocean through the Barents Sea.
Unlike the Atlantic and Pacific, the upper waters of the Eurasian Arctic Ocean get warmer as they get deeper.
The top of the ocean is typically covered by sea ice. Below this is a layer of cool freshwater, followed by a deeper layer of warmer, saltier water delivered to the Arctic from the Atlantic by ocean currents.
According to NASA data, the total area covered by sea ice in this region has fallen by almost half since satellite records began in the early 1980s.
One possible reason for this is that, when sea ice melts through the summer, it replenishes the freshwater layer that sits above the warmer Atlantic layer. With less sea ice around, the amount of freshwater dwindles, this, in turn, causes the ocean to mix together, drawing more Atlantic heat up towards the surface.
This "Atlantification" can, in turn, cause more ice to melt from below.
Human-caused global climate change has been accelerating the Atlantification process and this will in turn significantly affect the weather patterns, ocean circulations, and the entire Arctic ecosystem.