Stubble Burning: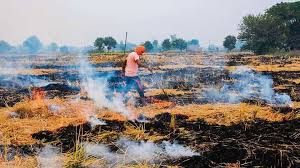 A study was conducted recently in six villages of Patiala, Punjab on Stubble Burning and impacts on health.
Pollution from stubble burning significantly reduced lung function and was particularly harmful to rural women.
The concentrations of PM2.5, the category of unburnt carbon particles considered most harmful to respiratory health, was found to increase more than twice between the two phases, from 100 g/m3 to 250 g/m3.
During the crop residue burning period, a two to three-fold increase was noted in most of the respiratory symptoms including wheezing, breathlessness on exertion, cough in morning, cough at night, skin rashes, runny nose or itchiness of eyes etc. across all age groups (10-60 years).
The highest number of respiratory complaints were reported by the elderly population (>40-60) and the lowest in the younger age group(>10-18) during crop burning period.
There was decline in lung function with increase in PM2.5 concentration across all age groups even after controlling for several other exposure variables, such the influence of cooking fuel, ventilation, distance from road etc.
Stubble burning:
It is a common practice followed by farmers to prepare fields for sowing of wheat in November as there is little time left between the harvesting of paddy and sowing of wheat.
Stubble burning results in emission of harmful gases such carbon diaoxide, sulphur dioxide, nitrogen dioxide along with particulate matter.